Eco-Crowd: Decentralize Autonomous Community-DeFi Ecosystem
COMPLETE GREEN-PAPER UPTADATE, COMING SOON
Eco-Crowd is a social and environmental friendly DAC (Decentralized Autonomous Community)

which share the vision and commitment of a local to the global economic and financial development model which improve and enforce thrust, fairness, social inclusivity and sustainable green and climate resilient world.
the Blockchain technology has produce and enable ecosystem, more precisely in the DeFi sector which is transforming the financial and business landscape at a high speed making it more accessible and inclusive to mobilize finance and investments than ever before; tracking, monitoring and secure clusters of supply chain has become more efficient, so are E-commerce and crowdfunding, thanks to smart contracts, escrow systems fueled by native ERC20, BIP20 utility and NFT.
Eco-crowd

(Ecoin) is a new eco-responsible, socially inclusive and fair utility token that support and incentivize eco-certifications, green ventures and labeling production, distribution and consumption business model within a unique established DeFi DAC (Decentralized Autonomous Community).
We are working through the building of a

DAC (decentralized autonomous community

)

, in which all members have an equal share in the decision making and require 67% of existing members to agree to add or remove a member. The requirement that one person can only have one membership would then need to be enforced collectively by the group. The first to join the Eco-crow DAC, (early investors, backers, technical and counselling team) will be awarded special reward (bounty, Airdrop, interest rates), yielding advantages, etc. as well as governance privileges in the setting up of the ecosystem.
Liquidity mining is a kind of

yield farming

in which users of a

decentralized finance (DeFi)

product earn an additional token on top of the regularly expected yield just for putting assets into a

liquidity pool

– hence the term, "liquidity

mining

."
Eco-Crowd is an environmental friendly DAC and a DeFi centered multi-chain ecosystem for supply chains

(monitoring traceability, eco-certification and labelling of product and service clusters), Crowdfunding and financial incentive marketplace (E-commerce, Fair trade, bounty, exchange of utilities, products and services across borders), fueled by a ERC20 and BIP20 native utility token and NFT, namely "Ecoin".
Supply Chains: Traceability & eco-certification and labelling system
Eco-Crowd will build an environmental and social friendly DAC

and a DeFi ecosystem based on "smart compliance approach", from the "field to the market" (forests, farms, manufactures to consumers), by the setting up of an interconnecting clusters of product and service supply chain platform specifically dedicated to local communities, cooperatives, NGOs, associations, small businesses of the formal and the informal sectors (Forestry, farming, breading, mining, constructions, manufacturing enterprises, warehouses, transportation, distribution/retailing, consumption, recycling, etc.). Participants will be incentivized to support and back stakeholder's projects and socioeconomic activities that comply to regulatory norms and standards, according to the Piso Certification scheme and other voluntary standard and labels. The verification and validation system will be operated through the DAC, with members
A step by step smart compliance approach toward Process Integrated Sustainability Oriented Certification (Piso Certification Documentation scheme)
Certified products and services are characterized by regulated or voluntary quality labels. The system certification reliably attests the product's or service's compliance with a technical reference document of Environmental Management System (EMS: socially and environmentally friendly, sustainable production, consumption and recycling approach), occupational health and safety, quality and energy management systems as a combined approach, meaning that some product's or service's specific characteristics distinguish it from other similar products or services, thus assuring both consumers and producers.
Smart contracts adjustable to decentralized clusters/organizations/jurisdictions to monitor and incentivize compliance to the

step by step (smart compliance) approach toward Process Integrated Sustainability Oriented Certification (Piso Certification) of products and services by micro, small medium and big size enterprises of the formal ad the informal sectors.
The Piso certification compliance system is managed by a smart contract and a native NFT or utility Token (namely "Ecoin")
The system uses the DeFi tokenomic model/mechanism to reward products and services through different strategies, from yield farming, staking, liquidity/investment pools (eg. liquidity provision for Fair Trade, Reward, Loyalties, product and services rating for bonuses and airdrop reward.
A Smart Contract incentivize the "3 steps Smart Compliance System" within decentralized clusters of Supply Chains of E-commerce,
Crypto-Crowdfunding or crypto assets tokenization and Auto-Trading (mine, forest, farm, water, eco-touristic site, restaurant, traditional knowledge pharmacology and medicines, cosmetology (ABS projects), etc.), fueled by a ERC20 and/or a BEP-20 Utility Tokens (Ecoin): E.g.: Ecoin-Yield Farming, Ecoin Staking Pools, Ecoin Vaults pool, Ecoin Equity, Ecoin Lending/borrowing ... Finally, a Token (utility and/or NFT) system for Traceability & Certification (Level 1, 2, and 3) of products and services registered and managed by the Eco-crowd platform/network. That is one the feature that will be develop in the project TOKENOMIC!
PS: Rational of the Certification scheme: Products and services are traced by the network through integrated On, off or para-chains API/SDK (thanks to interoperable clients Blockchain and
ECOCROWD TOKENOMIC

(to be completed

)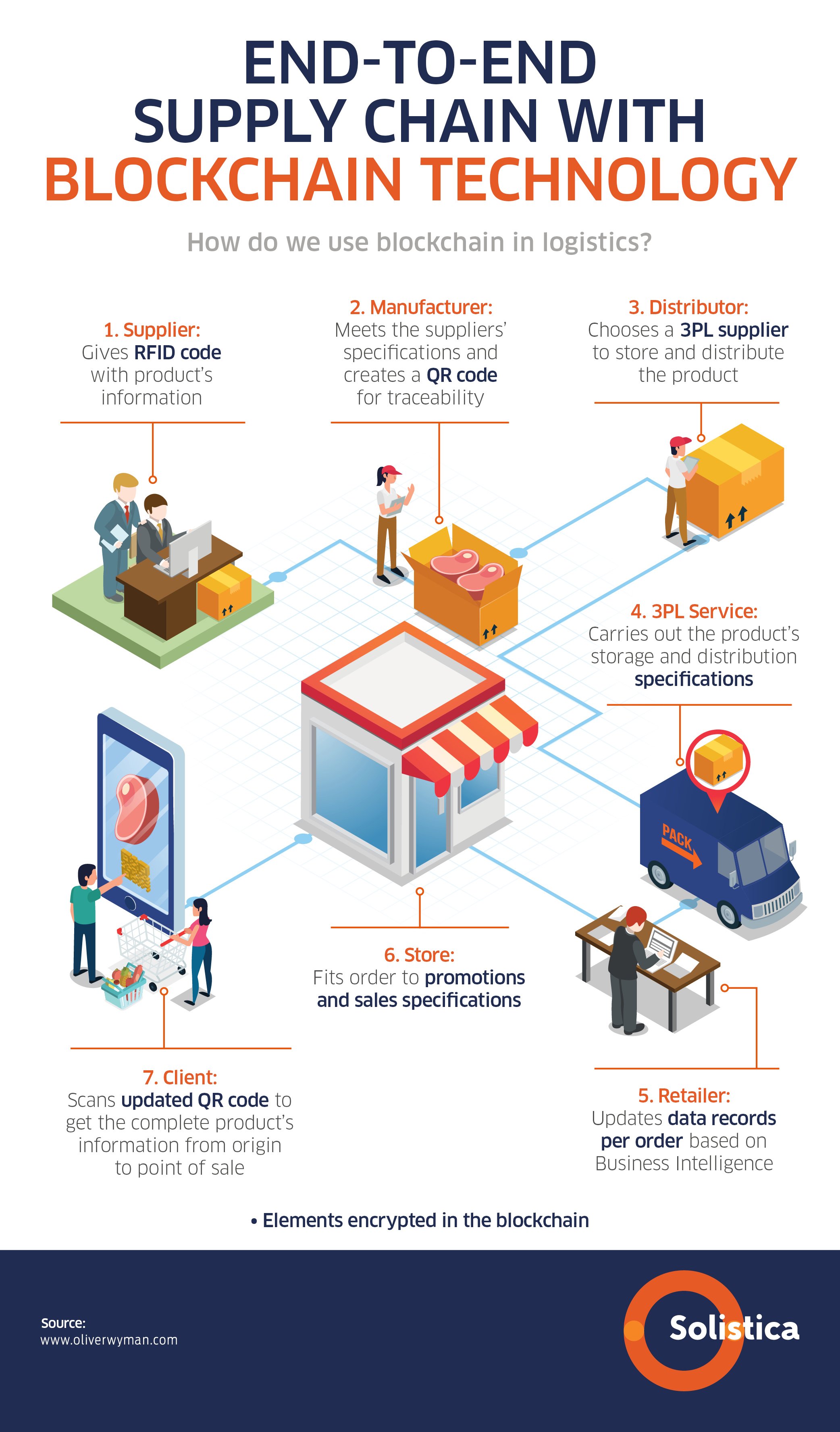 https://blog.solistica.com/hs-fs/hubfs/Infograf%C3%ADa%20ingl%C3%A9s%20/blog%20blockchain%20trad%20rev%20final%201180%20palabras.jpg?width=2084&name=blog%20blockchain%20trad%20rev%20final%201180%20palabras.jpg
Background (2016)
For the poor or the common trader, still today the direct way to trade is peer to peer and in many countries parallel or the informal economy. The informal economy is a sector that's growing rapidly and makes up from 30 to 80 percent of all non-agricultural employment and concentrate from 10 to half of the GDP in developing countries, according to the International Labour Office (ILO). How can countries with large informal sectors better support these workers to break out of the cycle of poverty and low productivity?

Governments try, often unsuccessfully, to setup enforcement measures that can formalize activities in the sector, and also try to bring them to the Banking system (A recent typical story from Papua New Guinea)

. The informal economy in fact is a parallel economy, which is the real economy that has been operating since ancient times. Far from being a phase of under-development, informal economies respond to fluctuations in the formal economy and provide 'cushions' in times of recession and adjustment.

Much of our formal economy depends on informal networks, activities and relationships. As such, informality is interwoven into the fabric of our globalized economy. We find that informal activities operating beyond the reach of regulation or taxation are not necessarily more harmful to the environment than formal activities or sectors. For example, informal waste picking. So, informal economies can be more sensitive to environmental degradation and climate change and hence more proactive in finding solutions.

Alternative routes for greening local economies involve light-touch approaches that recognize local conditions, capacities and social structures. If community-led approaches are understood, valued and supported, then informal economies can drive the transition to greener economies that emphasize social inclusion and welfare as the aim and outcome of green growth.

The concept of the green economy and green growth prioritize resource efficiency, low-carbon development and natural resource management. However, green policy instruments that can shift financial flows towards investing in natural systems are not intrinsically pro-poor. As such, they have the potential to marginalize vulnerable people even further.

Inclusive green growth

is a concept that seeks to tackle two global imperatives: (a) to raise the living standards of millions of people living in poverty, and (b) to slow the rate of global environmental degradation. Inclusive green growth is viewed as 'necessary, efficient and affordable' (World Bank 2012); it 'offers an optimistic, realistic alternative to countries looking for new sources of growth that make economic, environmental and social sense' (OECD 2013); and above all it will generate 'more jobs and better, healthier and more secure livelihoods for women and men' (World Bank 2012a).

The informal economy comprises half to three-quarters of all non-agricultural employment in developing countries (ILo 2013). Over the last few years, irrespective of growth in gross domestic product (GDP), informal markets have expanded, particularly in sub-Saharan Africa. After the 2008 economic downturn even highly developed OECD countries have experienced a rise in informal sectors, markets and employment (OECD 2009), while former socialist countries such as Armenia and Cuba are seeing a surge of informal sectors as former civil servants seek work outside state institutions (Tverdohleb 2012).

Historically, informal economies have been treated as relics of under-development (Green 2009). They have been characterized as 'shadow', 'grey', or 'black' markets because of their connections to tax evasion, unregulated enterprises and criminal activity, non-protection of workers in the event of layoffs or non-payment of wages, absence of social benefits (e.g., pensions, health insurance), and little tax revenues generated by this activities for the state. They have also been associated with environmental pollution and degradation as a result of expanding urban slums, and activities such as illegal logging and unregulated mineral extraction.

More recently, informality has been recast in a different light. While there are dangers and drawbacks to informal markets they also provide a vital source of livelihoods, income and opportunity for many of the world's poorest and most vulnerable people. Informal economies have also been shown to be more alert to increased resource scarcity and to climate change than formal markets, and in some cases more innovative in generating solutions than their formal counterparts (Tandon 2012). If this is the case then informal markets could power, rather than impede, the transition to greener economies.

The magnitude of informal markets and their importance for millions of people around the world is recognized. These cases shed light on the possibility of looking at informal markets as part of the solution rather than the problem or obstacle for a more inclusive green economies. We need promising action paths, to better understand and improve informal markets and the conditions by which that can happen.

While there are many common features prevailing across Africa and some developing Countries informal economies, it's important to note that, the size and nature of this sector greatly varies from one country or region to another.

Some research carried out on the field, bring us to realize that many economic sectors or activities in Africa and developing countries are not well exploited and valorize optimally despite their tremendous economic potentialities which consequently limit the full optimization of entrepreneurship and market development.
The Project (earlier concept)
Ethereum Blockchain Decentralized multi-channels Crowdfunding and Marketplace (Ecommerce) Platform fuelled by a build-in ERC20 EcoToken, blockchain APIs, multi-channels transactional fin-tech gateway, IoT and GPS tracking system encrypted in smart contracts, adaptive and configurable to various regulatory frameworks, infrastructures and juridictionral contexts.
The platform is designed to narrow access to funding, venture, trade and investment and market opportunities to small and medium size interprises (SME) and startups of the formal and the informal sectors.
Brief overview
Problems
The global market is treated by the invasion of fraud, counterfeiting, piracy, and
non-compliance
of majority of consumer products and services
with
regulation, norms and
standards
: quality, safety, social and environmental minimal norms. Stakeholders across the value chains suffer greatly from this secular situation: investors, enterprises, retail market, consumers, regulators and the general public as a whole.
There is a lack of mainstream tools available to control, to combat and to mitigate adverse effects of this phenomenon. It's a really widespread situation that affect not only in the informal economy and the developing world but also biggest companies and the developed countries.
With a diverse and globalized supply chain, and the myriad certifications and guidelines schemes, what are the steps companies can take to help ensure what they source is produced sustainably? What are the key tools and initiatives that can help, and how can companies access them?
Actually, several companies and institution, public and private from the formal and the informal sectors are exploring a variety of ways cryptocurrency can provide solutions across the supply chain, including a seed-to-sale blockchain system that can track products and services throughout their lifecycle to simplify regulatory compliance and help sellers monitor quality.
They are also exploring the idea of B2B cryptocurrency and are looking at crypto technology delivery solutions.
This include a compliance process to regulatory norms, standards in multiple countries and jurisdictions, that are constantly change according to political, market and cultural dynamics.
A blockchain tracking system could help with regulatory compliance and improve thrust, transparency and efficiency in variety of transactions, trade, services and value chains.
Company are also exploring crypto technology applications for compliance, payment processing, billing, information portals and other related Internet-based services.
This is true for activities, ventures, trading in sectors and chains that are particularly confronting with unaffordable regulatory systems. That is why we need to promote a Smart regulatory or "smart formal" system of transaction that is now possible with the Ethereum blockchain smart contract capabilities.
Summary of our all-in-one solutions
This is a global framework enabled for secured, transparent, truthful, fair and inclusive cross sectoral business transactions between suppliers and buyers of products and services, including alternative finance for ventures, startups, enterprises and projects. These services are delivered through a multi-channel clusters and supply chains.
The platform will perform unique web-based and mobile monitoring and tracking service for startups, S&ME, retail and consumer services, ecommerce platforms, VCs and project backers through which it will be possible for any registered business to track and verify the compliance of products, services, projects and ventures, to essential regulatory requirements (smart compliance) such as environmental and social safety, etc.
The tracking and verification process will be performed through a peer to peer and bottom-up approach. One of the platform competitive advantages is the provision of an enabled environment for democratized access to funding as well as to large scale fair and secured markets by cross sectoral clusters and supply chains in both the formal and informal sectors of the economy.
The project result in an harmonious integration of the PoW (Proof of Work) protocol with a PoC (Proof of Compliance), thanks to the Ethereum Smart Contract, with applicable IoT (Internet of Things) and AI (Artificial Intelligence) tools and APIs for a variety of products, services, supply chains and transaction regulatory and standard requirements.
Within the platform, transactions will be fueled by a native Eco-Token exchangeable alongside with the main crypto currencies and monitored by a native Escrow service (automated third party). An intuitive and user friendly dash board front-end interface will be equipped with eco-wallet and Fin Tech gateway with inter-operability with other token exchanges, bank and online accounts, mobile money services, PayPal and credit/debit cards APIs.
Eco-token is a native cryptocurrency, a value storage, and an exchangeable coin that reward "smart compliance" to sustainable management of natural assets and commodity supply chains, eco-projects, environmental friendly and social impact production and consumption, additionally to normal business smart contract agreement and requirements.
Within the ecosystem, enterprises, projects and startups could benefit of transparent, secure, truthful and fair access to ventures, investments, markets facilities, fair rewards, bonuses and bonds thanks to the "smart compliance" protocols and functionalities.
The infographic below shows different types of sensors that could be included in smart objects. All the collected information can then be stored on the blockchain and managed with smart contracts.

Funding options
We are launching an Eco-Token Pre-ICO (Initial Coin Offering) crowdsale during which a determined amount of Token will be released worldwide to raise funding required to kickstart the project development. The fund will support mobilization of a world-class technical team and board counsel. It will also support legal expenses to comply to regulatory and business requirements among which the incorporation of the company in an appropriate crypto friendly jurisdiction.
It will finance the design of a MVP (Minimum Viable Product), an alpha prototype and a full whitepaper development, as well as the development and lunching of an offensive communication strategy that will reached a critical mass of industry players and get to the global market as soon as possible.
Social and Environmental outcomes and benefices
In addition to support part of the project kickstart, investment seed will account for carbon offset, environmental and social mitigation, due diligence responsibilities on operations. In the long run, products and services promoted and traded on the platform as well as the platform itself will also account for environmental, social and climate commitments at national and global jurisdictions, no matter the geographical origin of supported ethical businesses.
An overview of a Mapping and Audit of the Supply Chain Layers in the agricultural and food sector
The structure of supply chains and the enterprises involved at each stage vary significantly across products and geographical mapping of enterprises that operate along agricultural supply chains. It should be undertaken on a case-by-case basis, with a view to better understanding relationships and information and financial flows among these enterprises and to better designing audits. For the purpose of this presentation, a simplified supply chain structure in the agricultural sector is proposed in Figure 1. Other sectors/layers will be analyzed and mapped according in software development process.


Blockchain technology allows us to verify not only the origins of a given food product, but also ensure everything from the identities of producers and methods of production to the health and history of the soil (or air or water) a piece of produce was grown in.
M

inimum due diligence/"Smart Compliance" to national and international standards and norm to be mapped, monitored and audited in partnership with regulatory and certification bodies and

stakeholders
1. Cross-cutting RBC standards
2. Human rights
3. Labour rights
4. Health and safety
5. Food security and nutrition
6. Tenure rights over and access to land and other natural resources
7. Animal welfare
8. Environmental protection and sustainable use of natural resources
9. Governance
10. Technology and innovation
11. Engagement with indigenous peoples: Implementing FPIC
Architecture components of the combined and inter-related platform
1) Crowdfunding and impact investing platform (Crowdfunding platform), build on top of the Ethereum platform equipped with smart contract capabilities for project and business transactions within the platform.
2) Ecommerce and vmarketplace (Ecommerce platform), build on Ethereum platforms with smart contract capabilities
3) Managing and monitoring platform bases on Ripple (Tangle), IoT technologies, artificial intelligent for marketing and other API functioning on Blockchain.
4) Tokend economy: We will use a generic "Ecoin" based on the ECR20 and BEP-20 for transactions within the platform, either for Ecommerce or project funding. Ecoin will be convertible to Bitcoin or Fiat. Our Ecotoken is to promote green and ethical investment. It will also serve to instigate and stimulate financial transaction within the platform at a fix rate (without currency fluctuation).
5) Smart contract. We simplify the smart contract interface generator so as to permit all none specialize users to make use of it with ease.
6) Participants Ecosystem: We have stakeholders on this platform from various sources. The proposed project will have two user types mainly Users (Who will select organization type as start-up, charity user, NGO, corporate user, individual etc., who can post a project, manage posted projects, receive funds for the project and invest or back on other users' projects).
A dashboard
will be provided to the user from where he/she can manage the posted projects, invite people, view received funds, withdraw amount, manage rewards and view the amount invested by him/her in other projects.
The user needs to select type of project i.e. Call for Project, Reward based, Community shares or Equity based and enter funding goal while posting any project. With our automated smart contract, if the fund raise objective is not met within 60 days, we will open another funding round within or out of the platform to meet the required funds as requested by the entrepreneur for his project.
If the fund reaches the amount expected, the funds will be automatically executed, otherwise, the investors or backers shall be reimbursed automatically within the platform Exchange and Wallet management System.
7) Strategic partners: Our ecosystem is made up of strategic stakeholders such as, central and local governments, banks, insurances, startups, cooperative, clusters and value chains activities within or outside clusters, government and non-government organizations.
Our objective is to make use of the available potentialities and resources to create thus auto-generated a real added value from numerous well known and unknown products, services and projects. To bring up autonomous business leaders in different fields and sectors of the economy as far as entrepreneurship is concern.
The project on itself is one that permits the government to place young students with the exact job market by networking with incubators and accelerators as well as the platform incentive framework
.
Rationale
behind the project
Blockchain technology, token-economy, smart contracts, Fintech innovations and the IoT can provide more trusthfull, secured and transparent digital enabled framework for ventures and investments, and empower small holders, starups, eco-entrepreneurs and the green economy policies and practices as a whole acros the sectors and value chains of the informal and the formal sectors ;

Thanks to blockchain technology and Dapps, democratized access to seed funding and investments can become a reality for startups, social impact and eco-projects often badly threated by poor access to different funding schemes, market opportunities, and who are also marginalized because of their weal capacity to demonstrate truth, credibility and compliance to different regulatory standards and marketing platforms across the world.
Implementation team
The project was initiated two years ago under the leadership of Mr. Jean Claude Stone Njomkap, Coordinator of

ECO2AFRICA
, a pan-African NGO, with many years of field practice and research in social and environmental impact entrepreneurship, green commodity clusters and value chains development in Africa, with many international collaboration and partnership nexus across the world.
A world class multi-stakeholder and multi-disciplinary technical team and partners as well as individual or organization project developers are being mobilized to take over all aspect all aspect related to the full development, deployment, upgrade and maintenance of the platform.
Under preparation to anticipate early adoption, appropriation, team and ecosystem building as well as to crowdsource funding of the prototype, via the ICO, whose beta will be released together with pilot startups and projects submitted by developers, including those incubated through network of startup accelerators and Academies.
The Pre-ICO campaign also seek to mobilize supporters and backers awareness and readiness. During the Pre-ICO, an Ecotoken crowdsale will be issued. EcoToken is an EC20 cryptocurrency that will be fueling transactions in the ecosystem.
The currency is an incentive that value product, service and project qualities and performances, green commodity clusters and value chains, as well as their environmental, social impacts and footprint, the sustainable production, service, consumption, and management of natural assets under smart authentication (standards, labels, certifications, regulations).
Products and services across the supply chains, will be traced, authenticated, certified, exchanged and traded against Eco-tokens convertible into other cryptocurrencies and/or fiat.
Within the ecosystem, enterprises, projects and startups will benefit from access facilities to ventures, investments, crowdfunding, markets opportunities, green-fair rewards, bonuses or bonds, specifically those in compliance with social impacts, eco-friendly standards, labels and regulations.
Pilot projects, services, commodity and supply chains will be prioritized within the platform prototype, during the ICO release, toguether with corresponding environmental standards or labels...

A multi-partnership and stakeholder collaborative ecosystem will be implemented in coordination with relevant private sector, civil society organizations, research and academia, government and international institutions to setup a "smart regulated" environment for traceable, truthful and transparent transactions in the platform during acceleration and takeoff phases of the ecosystem.
Interested? Become
A).Strategic Partner or Member of the Advisory Board;
B). Designer, project/product/service Developer ; tracking, monitoring and evaluation system provider (at the platform and/or the field level), in specific organization, commodity and supply chain, cooperative, enterprise, community, etc. at local, national or regional jurisdictions;
C). Advertise and/or Market project/product/service within the platform portal;
D).Join the platform knowledge and expertise Center and Academy;
E). Become a backer, an investor or a donor...
THANKS!
LET'S GET IN TOUCH BELOW ->